Choosing your home's decorative elements can be a challenging and time consuming task. There are many things that need to be considered, particularly when it comes to those external features.
Privacy and security are two critical issues that you need to consider when choosing gates, doors and windows for your property. They need to be made from quality materials that will stand the test of time to ensure that they're successful in keeping unwanted intruders out. Wrought iron doors are a great option, as they serve this purpose well and are also quite classy.
There are, however, many factors that you need to consider once you've decided that wrought iron is the material of choice for your project. We have taken a closer look at some of these below:
Weight, for example, is an important issue. The frame needs to be strong enough to bear the weight of the door. You also need to ensure that the hinges are strong so that the door can rotate freely. Even so, this material can be far too heavy for most people to open and close. This is why we recommend more of a timber and glass design that is accented with iron.
As the iron design is generally mounted over panes of glass, privacy is another factor that you need to be aware of. Anyone standing on your front porch will be able to see inside. There are, however, ways around this – most notably, to opt for frosted or even textured glass to prevent passers by from being able to see through into your home.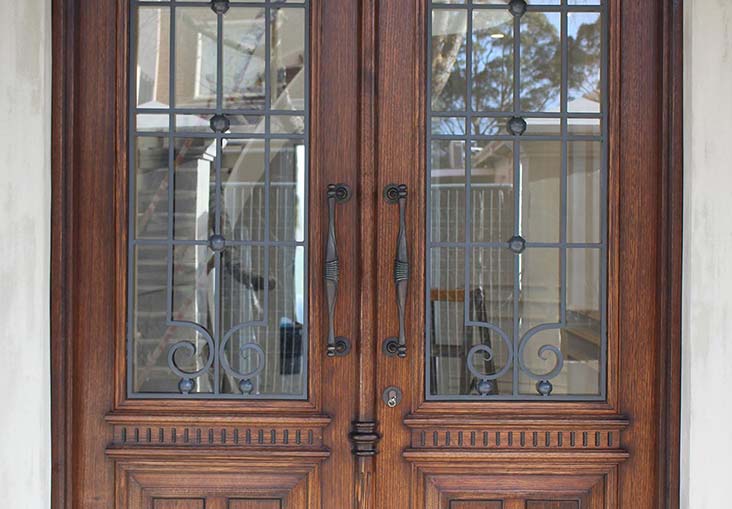 The prevalence of glass in these designs can also mean that security poses a problem – there is the chance that an unwanted intruder could simply break through the pane if they wanted to gain access. The glasses used are designed with security in mind, and you will have a choice of safety glass or even 11mm bandit glass if security is a concern for our clients.
Another factor that you need to consider is the style or even era that you are trying to replicate. These doors are reminiscent of an old French Provincial or Italianate style entry, but they can also have more of a contemporary or modern touch depending on the design you have ultimately settled on. Your designer can guide you on the best design for your home and décor.
Some designs can also feature an opening sash if you would like to improve airflow through your home's front entrance. This is, however, more of a personal preference and is by no means a must.
At the end of the day, you can add beauty, grace and charm to your home by including wrought iron doors in the façade. The best part is that they can match other parts of your décor or façade, from stair rails and balconies to an existing fence. For more information on incorporating these doors into your home and the designs we offer, do not hesitate to contact our helpful team today.