Caulfield North, located about 11km southeast of the Melbourne CBD, is a suburb that still retains the elegance and grandeur of a time past. Many of the streets are named after late 1850's era Crimea War locations and people, such as Alma and Balaclava. It was once home to a number of large and beautiful Victorian mansions; whilst many of these have since been demolished and the land subdivided, a few still remain and they are truly a feature of the area
When the owners of the Jacobson House, a beautiful 1920's home, decided that it was time for an update, they contacted one of the most experienced leadlighting teams in Melbourne. The owners wanted to be true to the original era and style of the original home, but they also wanted a feature that would reflect their own sense of style.
Armadale Doors & Leadlights have developed quite a rock solid reputation for themselves over the years. They have over 10,000 unique designs in their portfolio, the team shows meticulous attention to detail, they have a collection of original and authentic glass that dates back to the 1880's, and the team is conscious of their environmental footprint. It is for all these reasons and more that the owners of the Jacobson House chose A,D&L.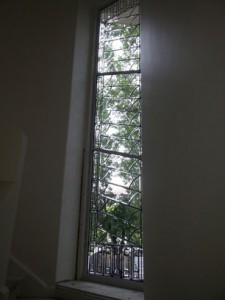 Philip Parker possesses over 40 years experience in the creation of stained glass leadlight and custom doors for luxurious homes. He originally founded a home studio, where he spent time mastering the design and manufacture of leadlight and stained glass windows, before his business expanded to its own premises in Armadale and finally to a large factory in Malvern.
The Project
Philip designed two leadlights for the Jacobson House – one located at the front of the home and the other on the stairs. His design was inspired by an original wrought iron gate found on the property and wanted to allow the occupants to look out over the beautiful trees in their garden. The leadlight for the staircase, for example, is 4 metres tall and 1 metre wide! As the original window frame had rotted, A,D&L replaced it as a part of the project.
One of the main priorities for the team putting the leadlights together was longevity. The leadlight was encased between two panels of safety glass and was triple glazed to ensure that the surface is protected and easy to clean. Both of the leadlights have been successful in introducing light and space to the home, as well as creating a sense of privacy and safety.