Whether you're building your dream home or renovating your existing one, the internal doors are a feature that is often overlooked. If you are trying to make your home more fashionable, however, this is something that you cannot afford to ignore. The most important thing to consider when choosing your door is not the paint colour or handle hardware, but the style of door itself! After all, everything else can be updated as your tastes change, but this will form the basis of a permanent feature within your home. In this article, we have taken a closer look at some our favourite internal doors on the market:
• Bi-Folds
Although they are commonly used on the exterior of the home, did you know that bi-folds can be a great way to connect and separate larger spaces within the home? These doors are often used between living and dining areas – simply open them up if more space is required. They are also popular for wardrobes, as they take up very little space.
• French
Another option that has traditionally been used externally, French doors are increasingly being used internally to link rooms and maintain an open look, whilst providing a visual "bridge" between the areas. They have distinctive lower panels with panes of glass mounted in your desired pattern above.
• Glass
To add some interest to your internal doors, you could have glass panels mounted in them at strategic intervals. This can help spaces to feel connected whilst separate at the same time, as well as make your home feel larger and airier. Although glass can be frosted so that it is not see-through, this option is not recommended for bathrooms or bedrooms.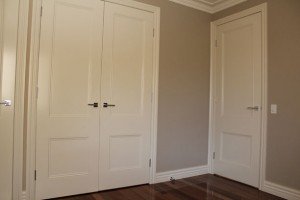 • Pivot
If you're looking for an option that incredibly popular, then pivot doors are the ideal style for those who want to make a statement at the entrance to their homes. These interior doors are also becoming popular additions internally. They're above average size and unusual pivot point have made them one of the most stylish options currently available – install yours at the entrance to living areas or formal dining rooms for an added sense of luxury.
• Solid
Finally, you can choose doors that are completely solid with no glass panes or fancy opening methods in sight. This doesn't mean that they have to be plain, however. Panelling of all shapes and sizes can be incorporated down its length, adding interest to what would otherwise be a simple feature. This is great for bedrooms and bathrooms.
We hope that the information provided here has shown you the importance of carefully considering which solid timber internal doors are installed in your home and how they can improve your interior. Don't forget to consider what rooms the doors will be separating, as issues of privacy and acoustics can make some options unsuitable for the application, whilst others can perfectly address your needs and requirements.