You're not alone – unfortunately, over time, your home can become neglected and underwhelming, and you often notice at once all the things which need to be changed. One of the best ways to improve your façade is by decorating your front doors. You'll feel better when you get home, and your guests will definitely love the extra effort. If you're looking for new ideas, you've come to the right place.
1. Make a Statement
If you want your entrance to stand out, you need to go big or go (figuratively) home. A great way to do this is with bold paint choices, like deep sea blue, bright reds, cheery yellows, or matte blacks. Alternatively, the door itself can be an impressive feature. Our favourite at the moment is the floor to ceiling pivot style, which can give your home a truly opulent finish.
2. Natural Timber
If you don't like the idea of painting your timber an outlandish colour, a well-chosen stain or varnish can really make your front entrance pop. A deep chocolate brown can be ideal for modern minimalist homes, especially when paired with a white or black façade, whilst a lighter stain can be perfect for a Hamptons or bohemian style house.
3. Lush Greenery
It's no secret that indoor plants are incredibly popular right now, and you can extend this trend to your front door area. This is a great way to make your façade look much more fashionable without putting in any more effort than a five second water once a week. Depending on your climate and shade levels, placing a potted mothers-in-law tongue, bird of paradise or sculpted English box on either side of the door can bring new life to the whole space.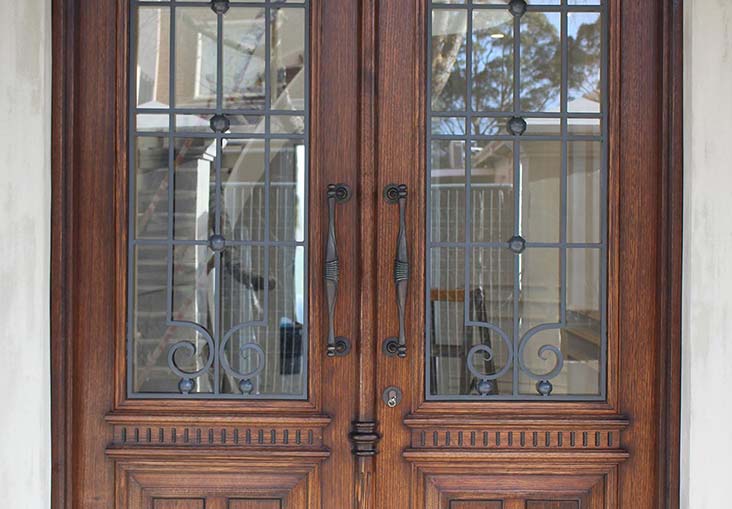 4. Stained Glass
At Armadale, we love stained glass – it's a great way to add style and class to your front door. No matter what period your home is, we've got over 10,000 designs for you to choose between to help add character to your entrance. If you're struggling to decide on a particular style, we're even able to create custom leadlighting for you, based on your home itself.
5. Accessories
Other great way to create the impression that you've changed the whole space – without actually putting in that much effort – is to update your accessories. Consider a statement door handle, bold knocker or new matting, and you'll be surprised at the impact that can have.
Your front door is a great place to inject your personality, offering your guests a taste of what's to come. These ideas are a great place to start, but creating a stylish front entrance comes needs a solid base and personal taste – we can provide your dream door and can direct you in how to best decorate it, thanks to our four decades of experience!