My name is Philip Parker; I've been designing and manufacturing doors for Armadale Doors & Leadlight for 25 years. I still can't believe how little is known by builders, architects and homeowners about the industry standard guidelines for doors.
Below is a must read for people building or renovating that are considering purchasing any door from any manufacturer. With 25 years in the industry, Armadale Doors & Leadlight have come across many situations where people aren't aware of potential problems by not having the right information. Many of our clients question why their 3000mm high doors don't come with a manufacturer's warranty, "but my house was designed by an architect" they say.
Experience has demonstrated that timber and MDF doors will bow, it's just about deciding how much is acceptable and who is responsible if it bows outside the industry guidelines.
So, how can a manufacturer except liability for conditions normally beyond its control?
Warping and bowing occurs mainly after doors have been delivered to building sites. It is usually due to improper storage or adverse moisture conditions before andafter hanging, not faulty manufacturing. Any door manufacturer will not accept responsibility for the development of warp when the moisture content of the timber falls below 12% or exceeds 18%. This is hard to control when doors, in most cases, sit around unpainted for weeks or even months before they are sealed properly. Some are hanging in cavities unpainted in unsuitable weather conditions. A cavity is a place where there is little tolerance for error, but I see them every week when visiting sites.
Once a door has been hung, it should be removed and stacked flat on a level surface and covered to keep the heat away. You still may get warping in the top door however the top door should be rotated every few days until painted, if this occurs.
Once a door is painted the doors are normally fine.
Other issues we've found that pop up from time to time at Armadale Doors & Leadlight are the natural variations in the colour and texture of the timber. These are not to be considered defects. Cedar is the most common timber to have severe variations in colour. Some boards will go from very light to very dark in less than 200mm. Some people see this as part of the character of the timber, some see it as bad selection of timbers for making doors. The problem with the latter is that even if we selected all the same colour when starting, there is no guarantee that when the timber is machined and sanded, that it remained the same colour.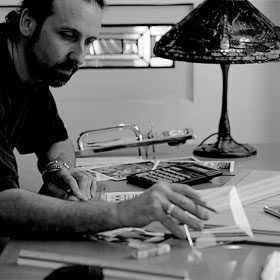 Another comment we get at Armadale Doors & Leadlight from clients is when they purchase cheaper doors from our competitor and are painted a gloss finish. You can sometimes see the substructure of the door, called "show through". This is normal for such doors andis not be considered a defect. This is caused because the manufacturer has used too thin a surface sheet of ply or MDF that shows all the substructure of the manufactured door when the door has a gloss finish. The only way to fix this is pay more for the door, so that you are getting a minimum of 6mm surface material.
External doors seem to be where people have most problems with their doors. ENTRANCE DOORS SHOULD BE HUNG IN WEATHER PROTECTED AREAS. With Australia's climate, extremes exterior/entrance doors will weather differently and timber doors are more susceptible to the elements than steel and aluminium.
Depending on your location and aspect, the required overhead protection will vary with tropical areas generally requiring more overhang than southern states. These guidelines will assist with determining the size of overhead protection which will vary depending on home design and adjacent walls.
In South & East facing doors the overhead protection should be equal to ½ the door height. In North & West facing doors the overhead protection should be equal to the height of the door.
The best way to avoid movement in doors is to seal them straight away. This means, immediately after fitting, the entire door including the top and bottom edges, must receive two coats of undercoat. Sealer must be used and its application to be equivalent to paint finish, to prevent absorption of moisture
Exterior finishes must be used on exterior doors but to be applied strictly in accordance with paint manufacturer's instructions. Doors exposed to direct sunlight must be finished in light reflective colours to reduce the risk of heat absorption, which may cause warping. Dark colours may void warranty. Both faces should have similar colours applied. Regular maintenance should be provided to prevent deterioration.
Most door manufacturers will not assume responsibility of doors that become defective because of failure to follow these conditions.
So what is the interpretation of warping?
Warp shall be interpreted as meaning the cupping/bowing or twisting of doors. It refers to distortion within the door itself and not its relationship to the jambs or frame in which it is hung. The industry standard for warping is exceeding 5mm for doors up to 2100 x 920mm, 6mm for doors over and up to 2400 x 920mm shall be considered a defect. NO DOORS IN EXCESS OF 2400MM HIGH OR 920MM WIDE ARE NOT GUARANTEED AGAINST WARP.
So the worst thing you can do is have a door, facing west 2.7 x 1200 made from MDF with little protection and that is painted black. So why are we constantly asked for doors like this? Who is responsible for problems? I suggest that you read any manufacturers Terms & Conditions before your purchase the door. At Armadale Doors & Leadlight, we will educate our clients of the risks of any door.
So why, with all these problems, do we use timber doors not steel? The answer is steel doors have other associated problems,whilst timber doors look and feel great. If handled, installed, maintained and designed fit for purpose timber doors will last the test of time.