Attractive and impressive, a pivot door is perfectly suited to those who want their entrance way to say something. Designed to make a statement, you can be sure that any guests arriving on your front step will stop to take it in before stepping over the threshold. Better yet, with a wide range of styles and custom-made options available, there is sure to be an option that suits almost any home. However, it's important to remember that this isn't your run of the mill doorway, and there are things to keep in mind before you make any purchases or decisions.
1. They are BIG
With a unique design that allows them to swing out and away from the home, pivot doors open to reveal an immense double entrance way. However, shielding an entry of this size requires an equally large door – with these styles available up to three metres high and 2 metres wide, and weighing up to 500kg! In turn, this requires a thickness larger than its traditional counterpart, with doors of this size needing to be no thinner than 44mm.
2.They may be outside Australian Standards
Unfortunately, due to this huge size and weight, in most cases they fall outside of the Australian Standards. This means they come with no guarantee that they won't bow. Despite this, with the aid of an internal steel frame, you can be confident that your door will be more likely to stand the test of time.
3.Professional Installation is Key
When it comes to pivot doors, it's critical that you enlist the services of a professional company. As they require a custom designed pivot model, without skilled installation they may be prone to bowing or jamming. By working with an experienced team, you can also design a door that completely meets your needs – include soundproofing, wind and draft excluding and even burglar resistance!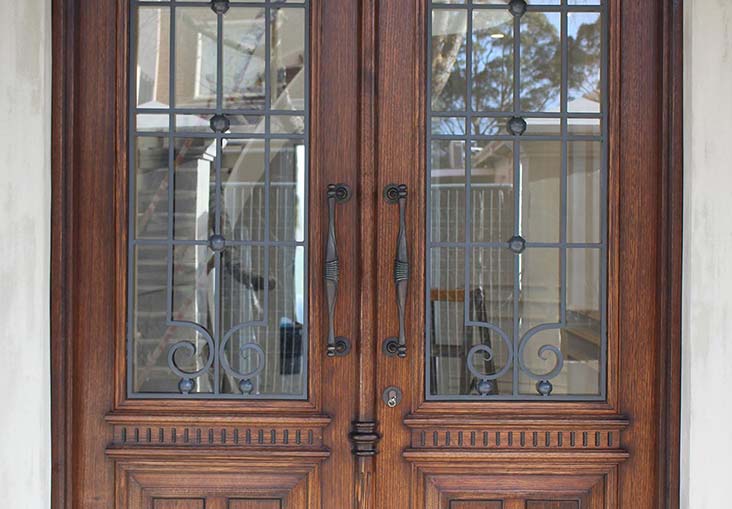 4.Choosing Complementary Fixtures
To ensure your new pivot door perfectly complements your home, spend time carefully considering the fixtures and finishes you choose. Whilst you want your entrance way to make a statement, you also want it to tie in with your architectural style – use timbers and colours already found throughout your property, and think about whether you want a contemporary or heritage finish when choosing your door handles and locks.
5.Consider Your Home
As we said earlier, pivot doors are big. This means they can easily overwhelm your entrance way if you have a small, single story home. Not only that, the passage surrounding the door may not even be large enough – ensure there is room for the door to freely open and close, without moving furniture or squishing yourself into a wall each time you want to enter and exit your home.
As you can see, pivot doors can be the ultimate in style and luxury – when done right. They should suit the space they are in, rather than overwhelm the rest of your home with their size. Carefully consider the look you want to achieve, and work with a professional team to ensure your dreams turn into a reality.