If you are having leadlights custom made for your home, you might find it difficult to choose a design. In the past, the design or style has often been an indication of the age of the home. These days, however, you might want to choose a style that complements the era your home was built or that fits the vision you have. We can even combine styles to create something truly unique.
Here are some of the most common leadlight design ideas:
1.Mosaic Tiles
Leadlights that are from the Victorian era tend to have geometric designs that are reminiscent of tessellated/mosaic tiles. Colours include reds, ambers, brass yellows, violets, turquoise greens and deep blues. Shapes include rondelles and diamonds.
2.Painted
Hand painting also become popular in the Victorian era. Glass panes often featured a hand painted roundel in the centre or a botanical motif (such as a stylised flower or leaves). Hand painting also featured in the borders (as decorative scrollwork) or as another feature.
3.Coloured Panes
In the early Federation era, we saw square, textured, multi-coloured glass panes launch onto the scene with enhanced decorative effect. It often formed a top and bottom border with a clear pane in between, ensuring that views of the outside were not obstructed.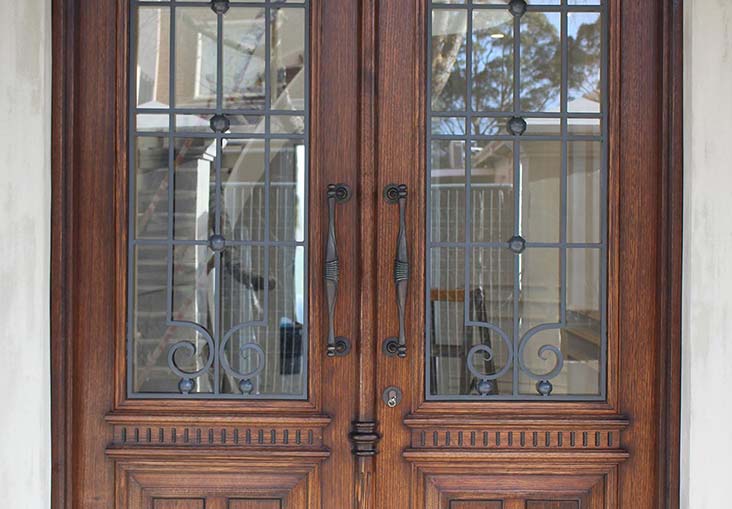 4.Geometric & Empire Motifs
Another design that was popular in the early Federation era, these types of leadlights used geometric lines as well as employing Empire imagery and other shapes (such as spun rondelles). Colour was often used sparingly so that you could still see outside easily.
5.Patriotic Motifs
As the turn of the century (and Federation) drew closer, so did the use of more patriotic motifs. This included lyrebirds, kookaburras, waratahs and the sunburst motif. Native Australian flora was also drawn on for inspiration, such as bottlebrush.
6.Art Nouveau
In the late Federation and Edwardian era, leadlights used more sinuous lines and stylised floral imagery. As such, colours that were more natural (particularly green) were popular. These designs were used both outside and inside the home to great effect.
7.Art Deco
Leadlights created during this era reflected the new modernity of the inter-war period. They were influenced by geometry, industry and the machine age. This led to an increase in angular designs with an emphasis on vertical, streamlined forms and colourless, heavily textured glass.
8.Mix of Art Nouveau & Art Deco
Many houses built during the end of World War 1 and 1925 had leadlights that blended the floral, natural style of Art Nouveau with the simplified geometry of Art Deco. These designs featured subtle curves, limited coloured glass and representational flowers.
9.Nature Iconography
Houses built in the California bungalow style were designed to have a connection with nature. The leadlights created during this era reflected this – images of plants and flowers were more prevalent. This also brought about less emphasis on straight lines.
We hope that the above list of leadlight design ideas has given you plenty to think about when choosing a design for your home. Don't feel like you have to select a style according to the age of your home – feel free to pick whatever style resonates with you most.
If you're still having trouble making a decision, the team at Armadale Doors is more than happy to help. We have over 10,000 photos of designs that we can use to inspire and more than 40 years experience in the creation of stunning designs for homes of all eras.